< Back
Case Study #1: How a Nexar incident helped make a dangerous driver accountable for his actions
If you follow Nexar on Facebook, you've seen videos of the ridiculous and dangerous antics that our users are capturing on the road every day. They record these clips with their phones using Nexar's AI dash cam app (which you can download for iPhone or Android) — and share them with our community.
Recently we posted a dashcam clip of a Nexar community member driving down Israeli route 31, an infamously narrow 2-lane road, on their way to the Dead Sea. After driving around a bend in the road, the filming driver suddenly faced a cement-mixer truck rushing toward him.
The driver of the truck had decided to bypass two other cargo trucks in their lane, an extremely risky (and illegal) move by anyone's standards, forcing our user to quickly dodge the oncoming truck by driving in the narrow shoulder joined by a steep cliff.
Reaction to this clip on our Facebook page was overwhelming. Many commentators expressed frustration at the prevalence of dangerous driving in Israel. "These days, everyone does whatever they feel like," someone commented, and another: "Who will help us? There's no law in this country."
Others commented about their lack of confidence in the authorities to do something about it. "Tell the police that the driver in the filming car is a celebrity and they might do something about it", wrote another.
But the kicker came when someone tagged the owner of the truck company. The manager contacted us and asked for the original video so he could check the license plate number and identify the truck driver. We sent him the original video, the date and exact location of the incident, and the license plate number of the truck — all details which Nexar's app gathers in real time.
With this information, the truck company successfully identified the driver, carried out a hearing, and decided to terminate his employment. All within 24 hours since the post was published.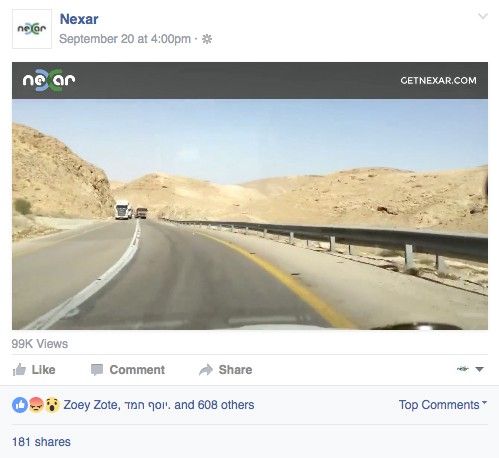 At Nexar, we envision a community of connected vehicles whose drivers care deeply about improving safety on the roads. Everyone has a phone, which means anyone can turn it into a connected dash cam and protect themselves. Our goal is first and foremost prevent crashes by providing drivers with real-time, pertinent alerts about dangerous situations around them.
Feedback from you — Nexar's users — promotes visibility and accountability for people's actions on the roads. The story above shows that when our community acts together against dangerous driving, we can effect real change.