< Back
Red, Green, or Yellow? Announcing the Pre-Launch of Our First API
The roads around us are constantly changing. In the past, our ability to see everything on the road in real time was limited. At Nexar, we have decided to change that. We are excited to announce the pre-launch our first API, Lights, as part of a new data platform. Lights API is our Traffic Lights Prediction API that will provide real time predictive and timing information about the color of every traffic light in a given city.
Lights is an essential first step in creating a new kind of map: an ever-evolving stream of data about every object on the road — traffic lights, vehicles, pedestrians, street signs, cyclists, street lights, emergency cars and more. The anonymized data for this platform is sourced from our app users who are part of our continuously growing safe driving network — no external sources of data are needed — and is analyzed using computer vision and AI. Because our safe driving network is the source of this data, our platform is also easily scalable. We are confident it will dramatically change how we see our roads.
We decided to initiate our data platform with a real time traffic light prediction service because we see how dangerous intersections are on a daily basis. Running red lights is the cause of some of the most devastating collisions seen on the road, and at Nexar we've seen our fair share of them. A significant chunk of these collisions are a result of drivers' miscalculation of the time they have at a given light or the duration of the light, which we can fix by providing drivers with this traffic light prediction service. Moreover, in our studies we've seen that providing traffic light prediction to drivers reduces their level of anxiety and increases their peace of mind at an intersection. We even think there is a chance that by providing this information, we might see a reduction in how often people text and drive, one of the main causes of fatal collisions on the road.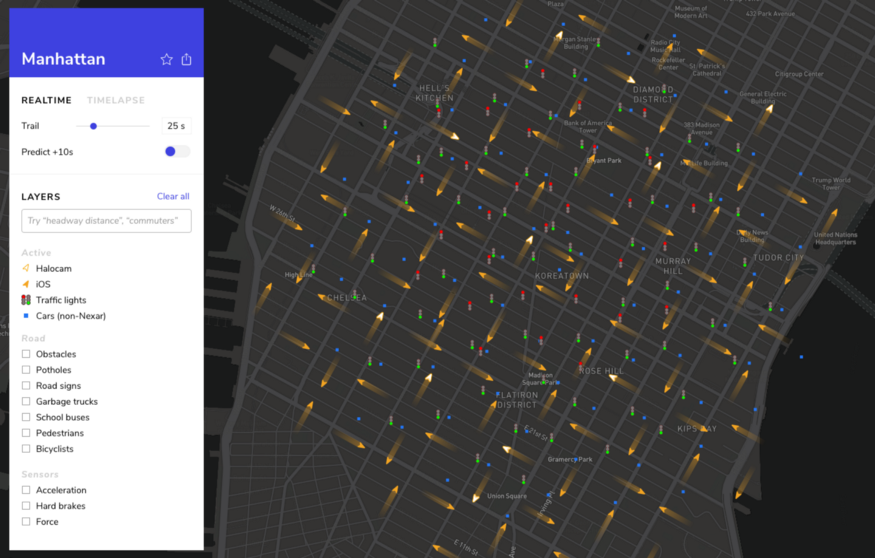 With Lights, navigation and ridesharing services will be able to take advantage of these live insights to create new user experiences, optimize routing, and improve travel times. This data will give cities instant detection of infrastructure issues, will help reduce pollution and will make it easier to achieve real time optimized traffic control. This data will also directly help increase the safety and road prediction abilities of car OEMs and developers of autonomous vehicle technology and systems.
Lights is the first real-world example of the impact we will have digitizing the public space. Using data to better understand our roads will dramatically improve the way we interact with the public space around us. It will help our partners build smarter and safer cities, cars, and applications.
What we are particularly excited about is that Lights can be applied to any city in the world, requiring zero investment in infrastructure. Cities and car OEMs won't need to invest in installing expensive V2X communication systems in every traffic light and every car, making this optimized, collision-free future much more realistic and economical. It also paves the way to solving countless other use cases that today can only be solved with expensive infrastructure investment, rendering these solutions totally impractical, like real time obstacle detection, free parking spot mapping, lane level navigation and much more.
Lights will be rolled out for select alpha partners in Q3 and Q4 this year and for general availability by the end of Q1 2019. Initial supported cities are NYC, SF, and Las Vegas — with 30 additional US cities planned in the next year. If you are interested in getting access to the Lights API or to learn more about the type of data that will be available on our data platform, please reach out to data@getnexar.com
Bruno and I started Nexar with the goals of making driving safer and eliminating car collisions. These principles have guided us since day one and continue to guide us today. With Lights and our data platform, we are taking a big step towards achieving that goal.